Post Ian Volunteer Clean Up Weekend a Success
Volunteer Clean Up Update – Yesterday was the first day since Hurricane Ian hit that we did not have to force an angry chainsaw to snarl and bark its constructive violence to life. In the natural quiet on a beautiful CMNC I'm starting to recognize again, I was able to reflect on this weekend's volunteer clean up. Up until this past weekend, every day's work seemed extensive, exhausting, and utterly minuscule in the grand scale of damage that we sustained. It was daunting and exhausting. A small crew of us has worked endlessly and removing trees only showed us other damage, only created more debris to dispose of. We made plans and started them. We are saving and repurposing what we can of the lost trees. But, we needed so much more help than we have had.
This weekend, we got it. 51 people showed up. 102 more hands, 51 more working bodies and thinking brains. 51 generous individuals who took some of their precious time off and gave it to us willingly only to be paid back with dirt, sweat and tree sap. Some brought saws, some brought pruners, some only brought their hands. All used what they had to the maximum benefit of CMNC. They spread out over the work areas like determined and efficient ants. A colony of strangers volunteering to put the pieces back together. It was loud, Smokey, hot and beautiful.
We focused on 4 main areas based on our goals. First was the Learning Center, this area is important because it is the home of the FREE community Thanksgiving that we host in partnership with the Old Miakka United Methodist Church. Thanks to this weekend we WILL host it again, this year, for Thanksgiving lunch. Thanksgiving day, 12pm. This event is for everyone who wants to come, those who may be alone, those who couldn't afford Thanksgiving dinner. We will host you. Come be with us and give thanks that we can be together.
The second focus area was the uplands cow pasture where we host the Myakka River Rendezvous and where our cattle graze when the marsh is too wet. This area was heavily impacted by tree damage including the fencing. The volunteers were able to get enough of it cleaned up with 4 burn piles going all day that yesterday, we were able to repair the fence. There is still more to be done in this area but the cattle were re-introduced to the big field. There was loud celebratory mooing, acrobatic displays and general happiness from all 14 members of our herd. We were able to repair the goat fencing and remove debris in there as well.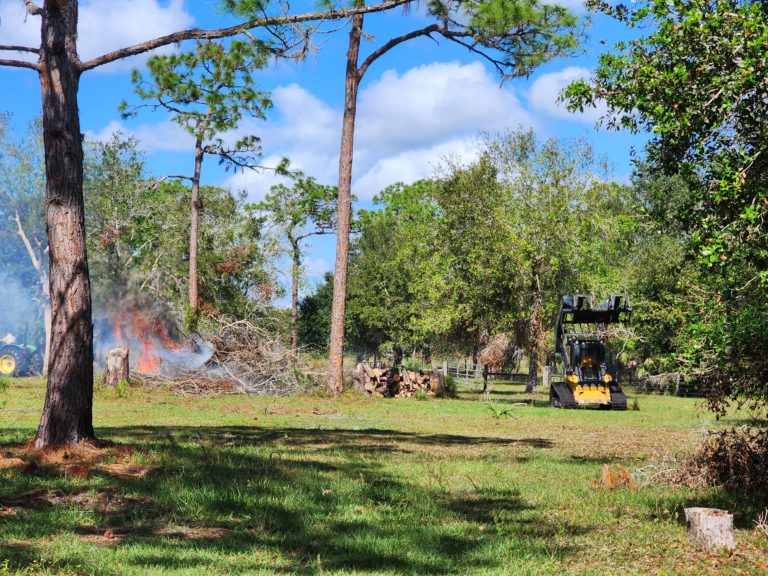 The third area was Emma's (cracker mare) pasture. We got a lot done in there as well. There's still work to be done on clearing there and extensive damage to her fencing and both of the pig areas. But, LOTS of firewood was salvaged there which will be great for teaching classes and the rendezvous.
The final area was a trail that is, for now, called Wildcat Pass. It connects the Florida Native village replica to a trail that goes to the children's discovery path, and back to the learning center. This trail was impassible due to the loss of a massive hickory tree and many more smaller trees and vines. Slowly opening the trails helps us be more efficient in our efforts.
I should also mention that both the Learning Center and Welcome Center were cleaned very thoroughly by several of our lady volunteers. These areas host many people and were very filthy from the storm. They were in need of a good cleaning and they got it.
One of the major factors that made this weekend so successful was the appearance of a crew from the Shreveport Volunteer Network with a heavy duty grappler on a skid steer. This volunteer crew from Louisiana ran a saw, drug canopy to piles and operated a machine that was capable of doing the work of 20 men. The volume of tree debris, metric tons, that this machine was able to move to burn piles was absolutely mind blowing and pivotal in our ability to get our feet back under us. The eager volunteers quickly cut up canopies of fallen trees and created piles that the grappler was able to move and less time than the entire human force would've been able to. They offered this work for free. Some thing that several other companies wanted to charge us a great amount of money for. They did this both as part of their religious conviction, and so that we can get the free services that we offer to title I and special needs groups back up and running. Please consider donating to this cause they go around doing this work for communities that are impacted by natural disasters and have done a great deal of good for our community. We are immensely grateful for the service. This machinery, the repairs it needs and the fuel that uses are not cheap. To help support their efforts please donate here.
I am overjoyed to tell you that it is looking entirely possible that we may be able to offer our educational field trips starting in January 2023. Additionally we may even be able to open fully again to the public although the date for that is not as certain. Much of this is in response to and entirely because of the tremendous outpouring of public support that we received this weekend. It was humbling and beautiful and we are very grateful.
We will organize additional volunteer days as we are still needing to do a great deal of Trail clearing and repairs to areas that are pertinent for the services that we provide. We have still been unable to secure any roofers so if anyone knows of a dependable and reliable roofing company that does metal roofs and returns calls we would be glad to hear about it. We have had a devoted volunteer, Kathy, making these calls but she's having issues too. We are also needing help with the hand Doug pump well that we use in our children's programs. If you know of anyone who specializes in repairing those please send their information along.
Again I want to emphasize how deeply grateful we are for the outpouring of support and love that the community showed us this weekend. We will definitely pay it forward by offering the services that we can back to the community. That being said, one of the things that was lost in the storm was our food pantry. Our lovely neighbor repaired it and put it back up and we have stocked it with food. If you are in need please do not hesitate to visit the food pantry. 24 hours a day and totally discreet.
If you would like to continue to support our recovery efforts you can donate here. All donations made through this link are doubled at no cost to you.